Mex, Switzerland, 21 July 2022
Two BOBST Open Houses taking place simultaneously will enable even more people to see our sustainability-ready technology first-hand
On BOBST stand (hall 4/A39) at K 2022, taking place in Düsseldorf, 19–26 October, BOBST are proud to announce "we are ready" to make sustainability in packaging a reality.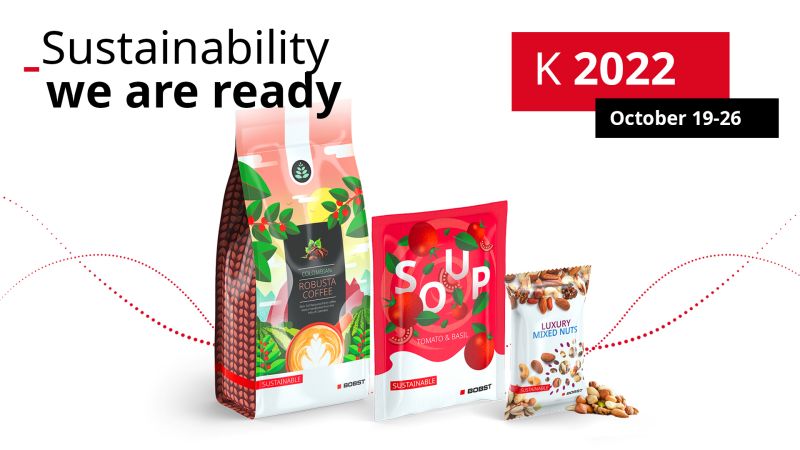 At the heart of this new reality is oneBARRIER – a family of new alternative and sustainable solutions that BOBST is developing with its partners. These solutions have the potential to be transformative for the packaging industry.
oneBARRIER PrimeCycle is an EVOH-free, top-coat free solution for full PE barrier and is an alternative to metallized polyester film. As a polymer-based mono-material, it is recycle-ready while retaining excellent barrier qualities, making it a potentially groundbreaking development for sustainable packaging.
BOBST's partners involved in oneBARRIER PrimeCycle include Dow, Michelman, Sun Chemical and Zermatt, who will all be present during K 2022 to demonstrate their vital contributions to this exciting development. Many other partners are involved in the overall oneBARRIER initiative.
"The solutions we are showing at K 2022 speak to the power of partnerships," said Sara Alexander, Marketing & Communications Manager Flexible Packaging at BOBST. "True innovation and meaningful progress in such a challenging area requires all the experts in the different fields to come together and bring their expertise to the table. oneBARRIER is testament to what is possible when there is a collective desire to unite and collaborate on something bigger than all of us – sustainability."
PrimeCycle is the first of several exciting oneBARRIER solutions. Following a shift in demand in the industry for more paper-based packaging options, oneBARRIER FibreCycle has been developed as a paper-based packaging solution. oneBARRIER FibreCycle is a full paper, mono-material, recycle-ready solution created together with partners Michelman and UPM, and will also be on show at K 2022.
BOBST and its partners are also actively working on a range of other solutions, including the development of a home compostable packaging option.
"Sustainable packaging is one of the great challenges of our age, but we are here at K 2022 to say we are ready," said Sara Alexander. "Come and see us at Stand hall 4/A39 and we will show you what the future of sustainable packaging looks like."
Better connected
Also on show at K 2022 is BOBST Connect, the user-centric platform which connects converters and brand owners to a digitalized and automated workflow, giving them clear visibility and control of the production process. By linking different steps of the process, BOBST Connect improves efficiency, control, and data knowledge, driving quality and productivity across the value chain.
Bobst Bielefeld Open House (19-22 & 24-26 October)
BOBST Connect helps elements of packaging production become "one complete solution" to users – from application management guidance, pre-press set up, to printing, laminating, and quality control. At the Bobst Bielefeld Open House, attendees will be able to see the full chain for flexible packaging in action, with the example of two flexo presses – the VISION CI and the MASTER CI – as well as the solventless NOVA SX 550 LAMINATOR.
Bobst Manchester Open House (18 October)
At the Bobst Manchester Open House, attendees will have the opportunity to see BOBST`s latest vacuum metallizing solutions in person.
"Our Competence Centers have been central to our sustainability efforts, providing essential locations for research and development work to be carried out by BOBST and its partners," said Sara Alexander. "We look forward to opening the doors to our Bielefeld and Manchester Competence Centers and demonstrating the progress we have made not only in sustainability but across all the other elements of the BOBST vision – connectivity, digitalization and automation."
To find out more about the BOBST innovations register and follow-us under www.bobst.com/k2022.